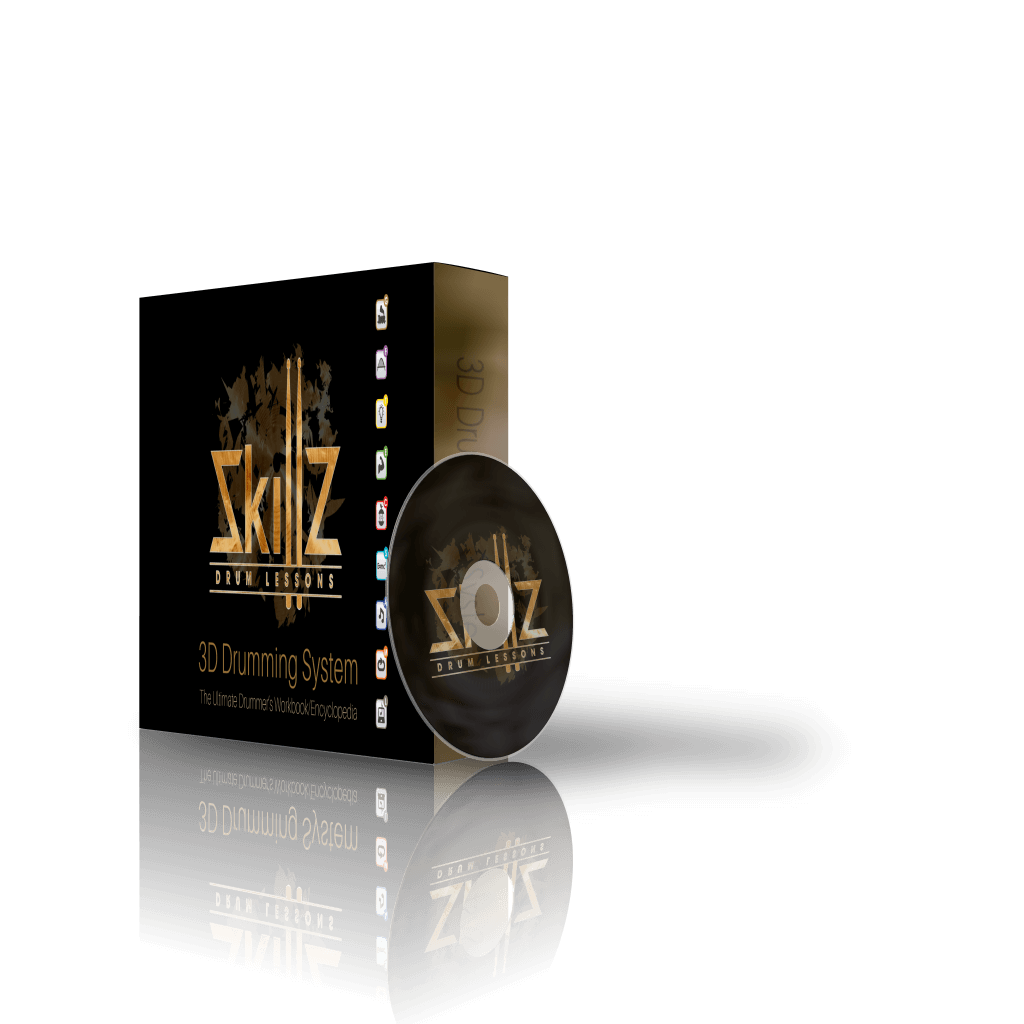 The internet is full of Online Drum Lessons. It's only logical we're all wondering how we could benefit from this seemingly infinite source of drumming information. But there's only so much time we can spend on drumming so it's important not to waste it by looking for the nex hip thing to practice. Or even worse, looking for the "drumming secret" which will make you a magnificent player overnight without doing any hard work.
So what exactly makes for the best Drum Lessons Online? In this article I'll share my personal view on how to determine this. Of course as a teacher and creator of online drum lessons I'm heavily biased about this subject - and even more so about who makes the best! But I've tried to look at it from a student's point of view. I hope you get something out of this.
1. What are Online Drum Lessons?
Online Drum Lessons are drum lessons which teach you how to become better at playing the drums via the internet without having to leave the house.

Which are the Best Online Drum Lessons?
The Best Online Drum Lessons teach you how to become a better player right now, with structure and perspective for a longer term planning. They also offer exactly what you need, communicated in the most clear way.

Now I'm going to share with you what I think are or at least should be the ground rules of online drum lessons. If you agree with me on this more or less you might want to give us a shot to see if it works like you had expected. And don't worry, you can start for free.
2. The best Online Drum Lessons (should) use these 5 tools
In order to get the best results I strongly believe all drum teachers should use the following resources:

Notes - Images which clearly instruct you how the musical (rhythmical) theory is made practical. Why not learn how to read while you're studying? When done effectively you'll learn faster, get more creative, have more clarity and oversight of the material, be able to communicate with other musicians and much more. I'll go into the benefits of learning how to read music much deeper another time.
Words - A (brief) description of what is being done and which systems are being implemented. Words are also very convenient for conveying any irregularities or warnings of possible troubleshooting.
Video - In this day and age we need video as a means of communication because you get to see what is being done, how, when and why. If and when done correctly, video can be one of the most powerful tools to convey any message or drum lessons for that matter.
Audio - You're learning how to play a musical instrument so it's all about music. Therefore we need to incorporate some form of music. We choose to do this by integrating YouTube clips of music appropriate for the online drum lesson. But we have another much overlooked solution as well.
MIDI - If appropriate audio is not available we always have our MIDI player to turn to. You can adjust these to your specific desires for a specific exercise so you can always play along to (some form of) music.
Of course you don't have to use these simultaneously all the time. You don't even have to use them in every lesson or practice session. But they should be made available to you, so you can always use the right tool for the job.
3. Benefits of the Best Online Drum Lessons
Let's look at the benefits of online drum lessons for you as a student of drumming, rhythm and music.

Learn from the best drum teacher(s) - You can widen your search to globally to find the best possible drum instructor(s) to suit your needs. No more having to deal with local teachers who may not offer what you need right now.
Save lots of time - You no longer have to go out and commute to a good teacher's studio. You can enjoy the lessons from your own home or studio.
You determine the schedule - You no longer have to be somewhere at a fixed time. Get a lesson whenever you want.
Choose the subject you want to study next - You can pick any subject from the online drum lessons next. It's like having all the drum books and dvds at your disposal, all in one place and connected somehow. There may be a suggested learning path but since we are all different this can not be carved into stone.
You determine the pace - If you need a second to overthink a piece of material then you simply take a few seconds before proceeding.
Flexible length of your drum lessons - No need to take a lesson for a fixed number of minutes or hours. If you have twenty minutes and you want a quick lesson you can do just that.
Flexible amount of drumming material - You know best when you have had enough for one session. Normally in a situation like this you would have to try to get the most out of the session even though you feel like you've had enough. Now you can just call it quits whenever you like to.
Infinite amount of recaps - If you have to or simply want to watch the material again then you always can. You don't have to ask your teacher about that specific subject and hope he or she can give you an exact replica of an earlier explanation. Now you can just revisit that online drum lesson and watch, read and listen to it again.
Always get the best of the teacher - Every online drum lesson is prerecorded so the quality of the lesson should be at least very high. Why else would it be uploaded? We all still have bad days, you just don't get to see them anymore!
These are surely not all benefits to online drum lessons so if you have any suggestions please share them!
4. Possible pitfalls of online drum lessons
The best online drum lessons should also make you aware of the possible pitfalls of learning how to play the drums online. This way you learn how to avoid them and filter out the useless information.
Overwhelming without noticing it
Video is an important part of online drum education. And rightfully so because you get all the information you need in one easy to consume video.
And then some!
Video contains an incredible amount of information which can get overwhelming pretty quicky. Here are the main features of video and their specific risks to watch out for in (video heavy) online drum lessons.
Message or content itself (the subject of the video) - Does the video have the right length, does it cover the topic in a clear and concise way, without dispaying the teacher's capabilities too much, does it motivate you to play or to watch more?
Visual side of the message - The movements of the teacher, the equipment being used, and the post production editing should not be distracting you from your goal: to get better at playing drums.
Peripheral information such as camera angles moving, notes being put on the screen while playing or talking, a busy background distracting us from the message, distracting use of lighting. In video these elements can take away our focus without us even noticing it. 
Lately it seems like a good lesson has to be shot in the best quality, with exceptional Hollywood like camera work and lighting, have an interesting background and a CNN-like burst of information on your screen. I don't know about you, but I get nervous from having all this information thrown at me.
So we don't do this. We simply get the best script for the lesson, film it at the best possible angle, and make it as to the point as possible, which leads me into the next major pitfall.
Studying hard, with a bag of nachos..
Video also has a tendency to become more of a leisure type of thing where you watch instead of focus on learning. This is precisely why we use what we call Ultra Short Video (USV) in our Online Drum Lessons. No more meaningless long form entertainment, just to the point videos as short as possible.
This is a good reason not to go overboard on production value. The message of the lessons is what needs to be conveyed, not the visual side of it. Just a quick heads up. If you're really into great looking video you may want to take up video shooting or photography or something of that nature. Learning how to play a musical instrument is probably not for you.
Motivation
Nobody's in the room pushing you. Motivating yourself to do something daunting or repetitive can be pretty hard at times. If you're a beginner this can certainly be true. So the lessons have to be motivating by nature or you won't bother after a while.
This actually means the entire lessons and courses structure have to be motivating by nature. This can only happen if they are well thought out and well set up. Only this will give you the long term results you want.
So no more simply watching a more or less random YouTube clip and try to learn from this as much you possibly can. Instead you get the best possible structure from the best online drum lessons.
No immediate personal feedback
There's no drum teacher or coach by your side to stop you when you're not noticing you're doing something wrong. This is probably the biggest pitfall in taking online drum lessons instead of local drum lessons. If you're a beginner it can be a necessity to have someone by your side. I'm sure it can be done but having (at least some) 1-on-1 lessons may give you the right start, which may turn out to be a huge advantage for the rest of your drumming life.
5. Only perfect practice makes perfect
The best online drum lessons should also tell you to practice the not so cool stuff. Yup, I'm talking about rudiments here. In the broadest sense by the way, because as drummers we need a bit more than the 40 standard rudiments.
Online drum lessons shouldn't just be about cherry picking. You'll love that for now, and you'll hate it in retrospect because you've wasted lots of time just searching for the the cool stuff.
That's why we have entire rudiment sections to make it lots more fun to practice. There's a Free standard 40 P.A.S. Rudiment section. But we also have an "Additions and Variations" section, and a "Quintuplet Rudiments" section for instance. And we will upload a few more rudiment sections soon, 'Drum Set Rudiments' and 'Rudiments on the Drums' among other things.
There will also be video and MIDI with every single page so you can see exactly how to do them and play along. Who said practicing your rudiments has to be boring?
6. Practice and study without a drum set present
Rhythm can be studied in so many ways. Many facets of rhythm can be studied in many ways.
Out of twenty four Categories Of Rhythmic Elements (CORE) only two have to be studied behind the drums: Orchestration and Sound. All other CORE can be studied anywhere without a set of drums. You can practice most of them without sticks actually.
So why aren't online drum lessons telling you this? Probably because it's not sexy and it looks better to sit behind a nicely lit set of drums when you post it on Instagram.
When you join our program we'll make sure you can practice whenever and wherever. You get to focus more on playing actual music when you are behind a set of drums. So as a bonus you'll be more productive.
7. Never again get stuck in a rut
Do you feel like you're going around in circles and you're not really improving as much as you could? The best online drum lessons will give you a sheer infinite amount of things to study next. And not just a few nice things to practice. Instead they will also tell you exactly where you fall short.

In order to guarantee long term success you need consistent progress. In other words, regularly ask yourself these questions:

What did Iearn this past week?
What do I need to do to get to the next level?
Am I on track to reach my set goals?
The best online lessons have a plan for you so you can easily track your progress. I'm not talking about a system which lets you close the module by doing a test so you can go on to the next module. Music lessons shouldn't be conducted this way, I think, mainly because of two reasons:

Musical growth and depth are both never ending. Why do you think they ask Steve Jordan to come play an 8th note groove any decent amateur could play after studying drums for two hours? Yup, it's all about feel and musicality. So your first lesson will be one you'll work on for the rest of your musical life. This also explains the popularity of the term 'Back to Basics'.
And second of all because there is no one direction in musical and/or rhythmical growth. You decide for yourself which direction you choose to grow in. The best online drum lessons will assist you in your journey all the way.
If you simply stick to our plan I personally guarantee you that you'll never be going in circles again. Ever!
8. Shiny Objects Syndrome no more
Ever heard of the phrase 'Shiny Objects Syndrome'? We all get distracted by this. That's why marketing is a billion dollar industry and is getting bigger and bigger each year.
They show us nice images which trigger our emotions so we buy their stuff. Whether we need it or we don't is irrelevant. We connect our hopes and dreams to owning something which will bring us closer to that ideal. At least, that's the premise…
In online drum lessons this is exactly what happens as well. 4K video, multiple camera angles, and that fill sounds so awesome and they say it's really easy to play… Let's buy it, right?
Wrong!
The best online drum lessons tell you what YOU need to work on to become a better drummer, a better musician preferably. You will find cool sounding fills, in fact plenty of them. But if you see too many right from the start, and you feel tempted to opt in, check yourself for Shiny Objects Syndrome.
9. Structure and long term goals
The main thing you need to do to learn how to play an instrument is repetition. In order to be able to do that you need to have fun rehearsing the steps. In order to keep having fun you need to see structural progress.
This is why the best online drum lessons offer long term structure. We emphasize long term goals strongly because we believe studying an instrument should be a lifetime commitment.
In turn this commitment should bring sheer joy, self confidence, a positive self image, more discipline, a creative outlet and many more great things.
For you this may just be a hobby for now. Let's see in a few years how it has evolved.
10. Open minded
The best online drum lessons should also inspire you to get to know some new musical and/or rhythmical styles. If you listen mostly to rock music then initially you'll want to be a rock drummer. Taking online drum lessons will expand your horizon or at least get you into contact with other styles of music.
And as with children and food, they develop their taste mostly by experiencing new flavors. You shouldn't simply let children only eat burgers or spaghetti for the rest of their lives, right?
So why would you choose to do just that to your musical taste?
There are so many awesome styles of music out there it would be a shame to only play what you already know and feel. That's why we try to incorporate as many musical styles as possible in our books and online drum lessons.
I'll leave you with a famous Duke Ellington quote:
There are two kinds of music. Good music, and the other kind.

Duke Ellington
11. Supplement the lessons of a local drum teacher
Online drum lessons may also add to your usual drum lessons. It doesn't have to be a one or the other. Compared to local drum lessons most online drum lessons aren't that expensive so you could opt for a combination of the two if you don't want to quit your local drum lessons.
You could also practice things from your online drum lessons and let your teacher check your progress or make additions to the material specific for your playing or to your specific musical taste. The possibilities are endless.
12. Conclusion
The best online drum lessons will add another dimension to your playing. Having excellent structure is going to help tremendously. That's why I highly recommend getting the 3D Drumming System. You'll gain practice perfect structure along with a lifetime of material in the almost 2500 pages. And you will get the option to upgrade to get the additional online drum lessons.
After the 3D Purchase you may opt for the Premium Membership where you now get the books 3D Drumming System, Sub 5, and access to all additional courses such as Double Bass, Odd Time Playing, Brazilian Rhythms and many more to come. You also get access to all the Rudiment Sections and all the MIDI on our website. If this doesn't get you motivated, then probably nothing will.
If you're not sure you can also become a Free Member for life. You'll get a glimpse of how the 3D Drumming System works. You'll also get access to the Free Rudiments, Free MIDI, Free Drum Snacks and some other material.
P.s. The Rudiment Section has some excellent material to get you working on a better grip, and ultimately an improved technique which wil have you playing (relatively) pain FREE for LIFE!
Share your views
What do you think? Are online drum lessons good or bad? Do you miss the one on one interaction or do you love the ability to learn and study at your pace whenever and wherever you want? Leave a comment below to share how you feel.
About the Author
Bob Schillemans
Music and drumming have pretty much dominated my life for the last twenty five years. I enjoy every facet of it, and I intend to keep doing so for many more years to come.
Fan of music since 1981
Drummer since 1989
Teacher since 1993
Professional musician since 1996
Composer since 2002
Owner of Skillz Drum Academy since 2011
Author since 2014
Blogger since 2018