Learn how to practice what's really important, so you stop wasting time, get great results and an endless supply of motivation
"The 3D Drumming System has provided me with the structure connecting all the great (drum) lessons Bob has taught me. It is the most complete, ever growing encyclopedia that also encourages me in creatively applying all the essential fundamentals of drumming. It is not just a book, but a highly interactive work challenging the drummer in multiple facets. I've been playing drums for almost 15 years now and I still use it almost every time I practice.  Afaic, highly recommended, look no further. "
"The 3D Drumming System and the accompanying Online Drum Lessons have given me all the structure I could possibly want to develop my drumming skillz. I've been playing for a little over two years and already I'm getting compliments from other musicians about my ability to play anything. I know I have a long way to go, but I'm confident Skillz Drum Lessons will get me there!
And it's nice to see my daughter, who also plays the drums, enjoy the 3D Drumming System material. I can see her progressing quickly and having a blast playing the drums."
"I have closely examined the drumbook/encyclopaedia 3D Drumming System, and I find it to be an exceptional work. It's unique, clear and well thought out, and I highly recommend it to any drummer, looking for material from which to study."
"I wish you nothing but success with your new project. Continuing the tradition of expanding the drum universe is something that I hope never ends. Please accept my best wishes for your project."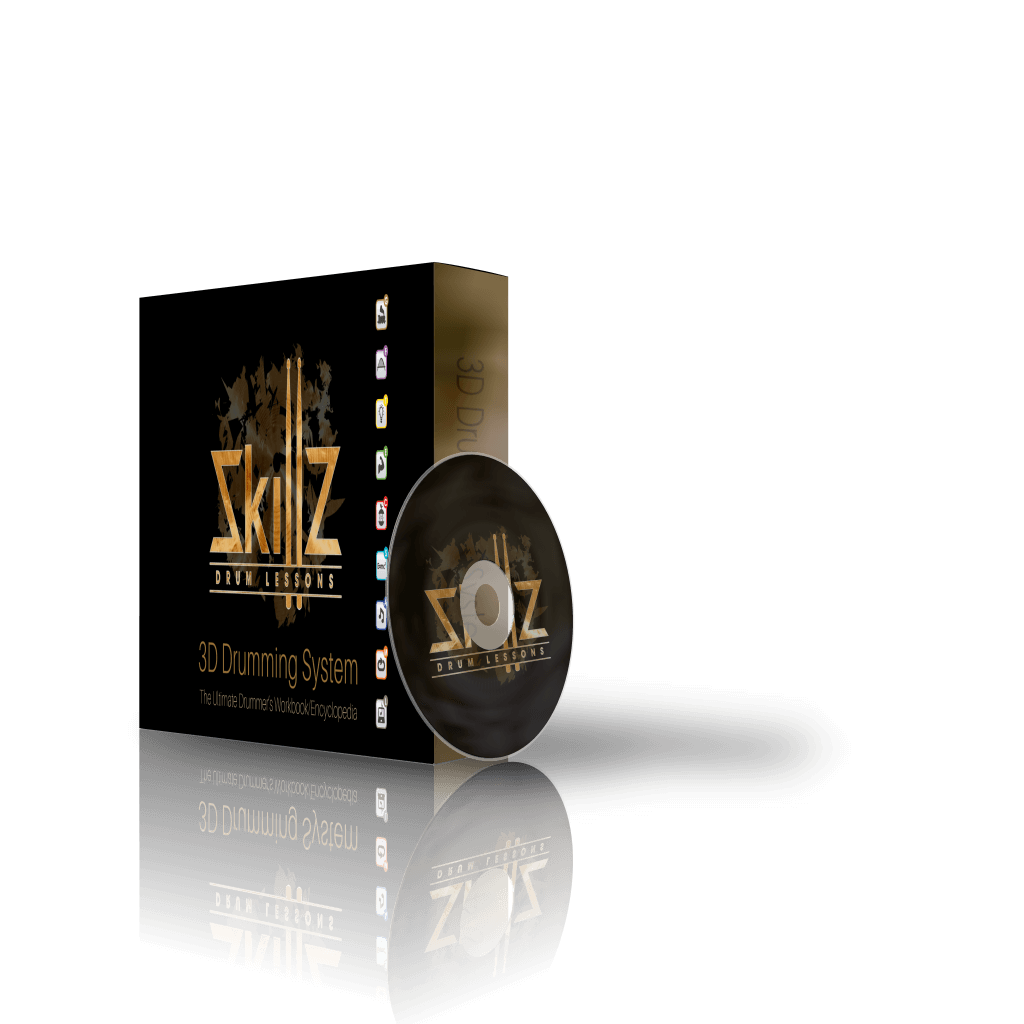 Key Benefits
The 3D Drumming System will
1. Guide you as the Ultimate Drummer's Tool (3D Learning)
2. Function as your Ultimate Checklist, completely free of stylistic preferences. (So this is truly for everyone)
3. Keep you 100% honest and therefore true to yourself and to your art (R&R)
4. Expand your vocabulary ad infinitum (Systems)
5. Save you massive amounts of time (Interactive Matrix Layout, USV)
6. Save you massive amounts of money – I've spent over $15000 on Private drum Lessons and close to $5000 on Educational Products (Books, VHS Tapes and DVDs) so you don't have to
7. Get great results with just a few minutes of dedicated practicing per day (DDD)
8. Inspire you to be creative (PiT)
9. Motivate you to keep you moving towards your goal
10. Provide clarity at all times (

CORE

Principles)
11. Provide optimized Learning Structure which will allow you to do …
NO. MORE. CIRCLES.
What you get
You get 2472 interactive time saving pages divided into 8 parts, 9 time feels, 20+8 subjects, 24 CORE Categories packed with Theory and Systems/Formulas, created over the period of 6 years by a dude with 30+ years of experience playing the drums and who also happens to have 25+ years of teaching drums, rhythm and music knowledge and experience.
Bonus
– 1 year of Free access to all 3D MIDI
– 1 year of Free 3D Drumming System Updates
– The chance to upgrade to a Premium Membership at a ridiculous price
Now instead of
$97 
Just
$27
30-day 100% Money Back Guarantee
Complete Info Below To Get Instant Access
Copyright © Skillz Drum Lessons