Save lots of Time, Money, Energy and Frustration by applying STRUCTURE to your drum practice and get the results you deserve
AND get 1 month of Premium Membership for FREE
Simply click YES on the next page
Key Benefits
What will the 3D Drumming System do for you? 
Get your Grooves going in any time feel there is
1. Learn how to master any time feel 
2. Really learn how to own all you can play
Get the "Secrets to having fast hands"
1. Get rid of the enigma of how to get fast
2. Actually learn what's REALLY IMPORTANT
Learn how to Improvise freely and comfortably
1. Learn how to combine and play by imagination
2. Learn the truth about Improvisation 
Learn the truth about "Independence" (Coordination)
1. You too can be very well coordinated
2. Learn to prioritize: first things first!
Learn how to play any fill EVER played
1. Understand the concepts of all possible combinations
2. Explode your drumming vocabulary
Guide you as the Ultimate Drumming Tool
1. The 3D layout will always tell you exactly where you are and what and how you need to do to get to the next level
2. 3D will function as your ultimate checklist, completely free of stylistic preferences
"The 3D Drumming System is like every other book I have rolled into one and I can go to exactly what I need to in seconds. There have been so many times where I've practiced say, some grooves in one book and thought "you know, I'd like a page a fills that go with this, or maybe some other ways to apply this, or a song to play this to". Then I have to go and hunt these things down...its disruptive to the process. The 3D Drumming System takes all the extra work and guessing out of the equation. I go practice a page of grooves, then I play the fills that go with them, I may go into another corresponding section of the book at that point, but most often I would click on the website and try some of the things in the lesson and play along to some songs....its all very productive practice I think. It puts it all together where before I felt I was just doing one thing over and over forEVER and didn't know how to apply it. It's laid out so logically, it just makes it so easy, and its fun to work through. (...) This book (3D Drumming System) is the best damn drum book out there in my opinion!"
AND get 1 month of Premium Membership for FREE
Who is it for?
The 3D Drumming System is for 
Drum Students of all levels who are tired of wasting time searching for drum lessons which may or may not be what they need right now. With all possible negative side effects besides wasted time such as practicing the wrong things, practicing the right things at the wrong time, getting only the "sexy advice" instead of the truly important advice etc.
Drum Teachers who want to offer their students the best possible guidance, which is especially convenient in this weird time. Now even more structure is needed because of the added distance between students and teacher. The 3D Drumming System will provide this strcuture and allow for easy communication between student and teacher.
In short the 3D Drumming System is for any drummer who is:
1. Serious about drumming and making progress
2. Interested in optimal structered learning
3. Obsessive about getting the best foundation possible because we know that everything we desire stems from this.
1. Current Playing Level 
I've been playing for over 30 years and I still use it daily. Absolute beginners will learn the best possible structure right away, seasoned professionals will have a detailed guide to always rely on, and possibly fill in some blanks along the way..
2. Experience with Reading Music 
You'll learn inside the 3D Drumming System. If you need more guidance you simply upgrade to our Premium Membership where there are, or soon will be, courses about virtualy anything related to drumming and rhyhtm.
"The 3D Drumming System and the accompanying Online Drum Lessons have given me all the structure I could possibly want to develop my drumming skillz. I've been playing for a little over two years and already I'm getting compliments from other musicians about my ability to play anything. I know I have a long way to go, but I'm confident Skillz Drum Lessons will get me there!
And it's nice to see my daughter, who also plays the drums, enjoy the 3D Drumming System material. I can see her progressing quickly and having a blast playing the drums."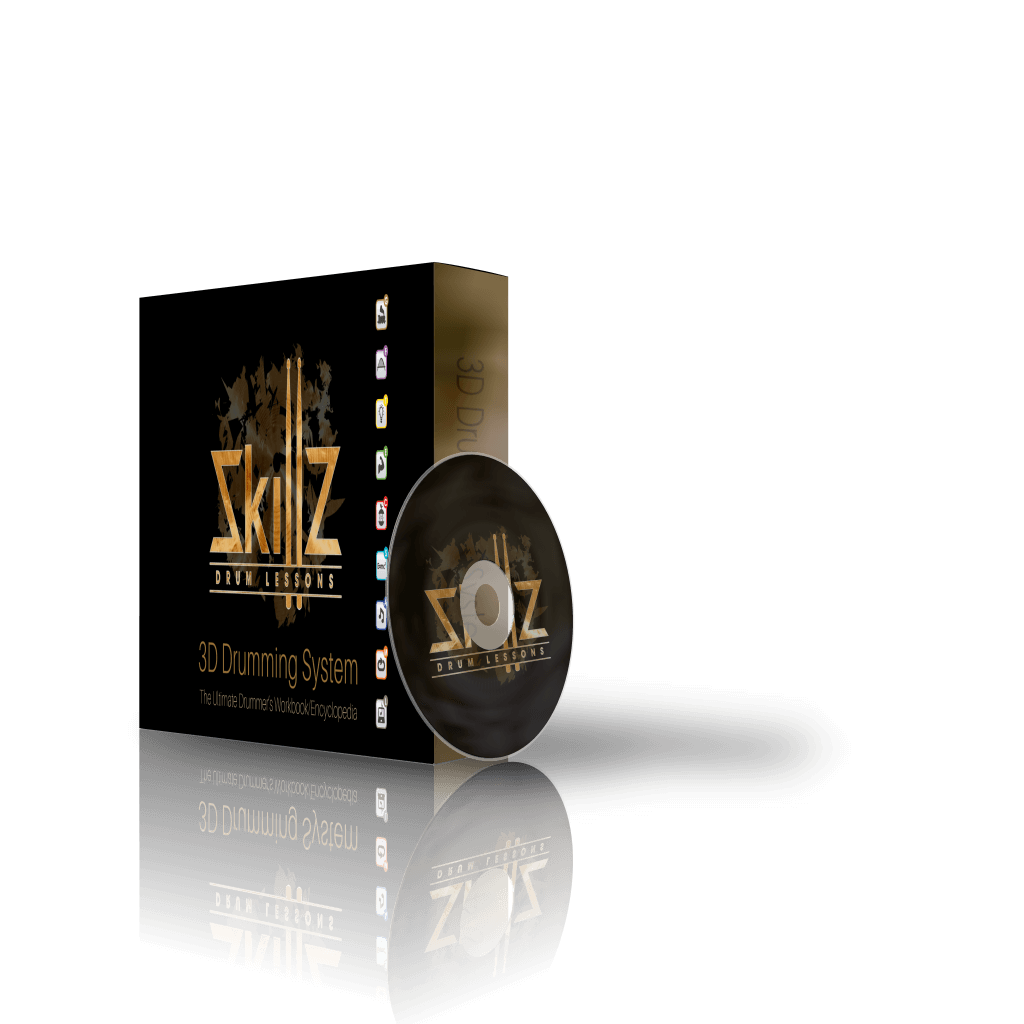 What do you get?
What is inside the 3D Drumming System?
Grooves
1. Learn how to master any time feel
2. See all elements of groove YOU need
Fills
1. Grow your vocabulary in any time feel
2. See exactly which things YOU need to work on
Tips
1. Learn how to combine and play by imagination
2. Learn the "Secret" to Improvisation
Exercises
1. Learn how to Troubleshoot and solve problems
2. Look ahead by doing Preliminary Exercises
Audio
1. Play songs specifically to time feel and subject, or a combination of both
2. Save HUGE amounts of time by simply clicking instead of wandering around the internet
MIDI
1. Improve your tempo, timing and form all at once by playing along to custom made MIDI loops
2. You decide on the tempo, which instruments, metronome on or off, volume and panning
What MORE do you get?
What is ALSO inside the 3D Drumming System?
CORE
1. All Rhythmic Theory divided into 24 Categories
2. Finally you'll be able to see the big picture and how it's all connected
Systems
1. All major Systems and Formulas of Rhythm divided into 24 Categories
2. See exactly which things YOU need to work on
These two categories alone would have been worth thousands and thousands of dollars to me growing up drumming wise.
I'm extremely proud of the way these turned out and seeing how many drummers around the globe have been making incredible progress with it makes all the years of hard work more than worth it!
Let's look at some numbers
How much is in/went into the 3D Drumming System?
Over $20.000 in Value
1. Drum Lessons: $15.000 +
2. Educational Material: $5000 +
Drumming Experience
1. 30+ years experience playing drums
2. 26+ years experience teaching drums
3. 2000+ hrs gigging / performances / sessions
3D Drumming System
1. Interactive Matrix layout: Almost 20.000 Hyperlinks
2. 2473 pages divided into:
3. 9 time feels (Horizontally)
4. 20 + 8 subjects - (Vertically)
5. 8 parts - (Laterally)
6. 24 CORE categories (200+ pages)
7. 24 Systems and Formulas (150+ pages)
8. 100+ Songs to practice along to
9. 100+ MIDI loops to practice along to
10. Yearly updated/upgraded
11. Direct digital download
12. The best possible overview of the Complete Foundation of Drumming, Rhythm and Music.
WHAAAAT???!!! YEAH RIGHT...
Yup, this is what it has cost me to be able to create this system:
- $20,000 worth of knowledge (drum lessons and eductional material)
- $5,000+ of hired expertise (graphic design, coding, and production)
Should I point out I'm NOT mentioning the 1000's of hours of my time that went into this project and the 10,000s of hours worth of studying and playing the drums?
If you read this last brief summation and you STILL think $97 is a lot of money for a "drum book" you are CLEARLY missing the point. In that case I don't think you will appreciate the 3D Drumming System. Maybe it would be best to stay with your free YouTube clips to 'learn' from.
If you do understand this, you're more than welcome to come in right away by clicking the button below
"I have closely examined the drumbook/encyclopaedia 3D Drumming System, and I find it to be an exceptional work. It's unique, clear and well thought out, and I highly recommend it to any drummer, looking for material from which to study."
AND get 1 month of Premium Membership for FREE
Simply click YES on the next page
You're serious about drumming?
Then don't you owe it to yourself to at least give the 3D Drumming System a try?
30-day 100% Money Back Guarantee
"I wish you nothing but success with your new project. Continuing the tradition of expanding the drum universe is something that I hope never ends. Please accept my best wishes for your project."
BONUS
And here are some extras
Besides all of the 2472 interactive time saving pages divided into 8 parts, 9 time feels, 20+8 subjects, 24 CORE Categories packed with Theory and Systems/Formulas, created over the period of 6 years by a dude with 30+ years of experience playing the drums and who also happens to have 26+ years of teaching drums, rhythm and music knowledge and experience, there's also a bonus for you:
- 1 year of access to all 3D MIDI
Any MIDI loop you click on inside the 3D Drumming System goes directly to the designated page on the Skillz Drum Lessons website. You'll have FREE access to this for a whole year.
- 1 year of Free 3D Drumming System Updates
The 3D Drumming System is constantly evolving. When an update is presented you'll be notified via email.
- The chance to upgrade to a Premium Membership at a ridiculous price
The Premium Membership is for drummers who want the additions and combinations as well as stylistic implementation of the 3D Drumming System.
In short, Premium is for drummers to save time and get the best results possible. And you get a chance to get a Premium Upgrade at a very special price..... Fill out the form and you'll see on the next page.
"The 3D Drumming System has provided me with the structure connecting all the great (drum) lessons Bob has taught me. It is the most complete, ever growing encyclopedia that also encourages me in creatively applying all the essential fundamentals of drumming. It is not just a book, but a highly interactive work challenging the drummer in multiple facets. I've been playing drums for almost 15 years now and I still use it almost every time I practice.  Afaic, highly recommended, look no further. "
Complete Info Below To Get Instant Access
AND get 1 month of Premium Membership for FREE
Don't forget to simply click YES on the next page to get your free month of Premium
Copyright © Skillz Drum Lessons