Rudiment Section #36
40 P.A.S. Standard Rudiments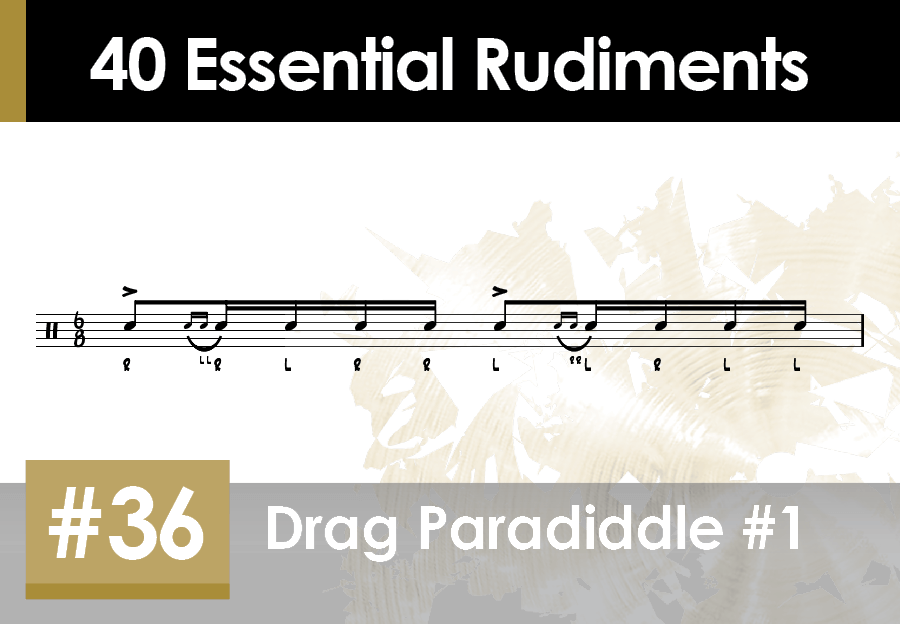 Rudiment #36
Drag Paradiddle #1
The Drag Paradiddle #1 (#36 of the 40 P.A.S. certified essential or standard rudiments) is a rudiment which combines an 8th note accent with a Single Dragadiddle in a 6/8 time signature. This is a hand-to-hand pattern which means it alternates between starting on the Right Hand and the Left Hand.
Sticking
R.llr.l.r.r.L.rrl.r.l.l.
Counting
1.tkn.t.m.t.2.tkn.t.m.t.
or
1.&a2.&.3.&.4.&a5.&.6.&.
As with any Drag rudiment, how you would count this depends greatly on the tempo. Thinking of 16th notes and doubling up the second 16th note to 32nd notes at a tempo of 8th note = 120 bpm is a good starting point.
When played up to speed this becomes a Double Paradiddle with its 2nd note doubled up to 32nd notes.
Lesson continues after this
Rudiment #36
Drag Paradiddle #1

Exercises
36a
This is the Drag Pardiddle #1 in triplet feel. First up are 8th note triplets.
Counting
1.ntm.2.n.m.3.ntm.4.n.m.
or
1.trippuhlet.2.trip.let.3.trippuhlet.4.trip.let.
36b
And here's the same exercise in 16th note triplets or sextuplets.
Counting
1.jkt.n.j.t.2.jkt.n.j.t.3.jkt.n.j.t.4.jkt.n.j.t.
or
1.trippuhlet.&.trip.let.2.trippuhlet.&.trip.let.3.trippuhlet.&.trip.let.4.trippuhlet.&.trip.let.
Ready to take your rudiments to the next level?
See which option suits you best.
Or create a FREE account right away. If you like the extra rudiment stuff there and the Level 1 Trial Version you can always get more stuff later.